Previous reports had it that Electronic Arts and Ubisoft would be the main names involved in the acquisition. However, according to new rumors, Warner Bros would als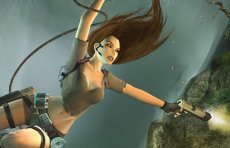 o be interested in taking Eidos matters into its own corporate hands. The latest entry on the list is Square Enix, a company that showed an increasing interest in Western gaming business recently.
Still, the ball seems to be played mainly in Warner's court, PSX Extreme reports:
"hey already own 20% of Eidos, and they would only have to spend another $30 million to gain controlling interest. $80 million would give them total control."
A clear winner is still far from sight and we'll be sure to write about it when it happens. On the other hand, the loser can be see from every angle: when you have a tight grip on the Tomb Raider money machine and still manage to make your share reach 10% of their original value, that's bound to make you famous.