Three Xbox Live Arcade titles had their prices cut down temporarily: Frogger, Bankshot Billiards 2, and Hardwood Spades. The new offer starts on September 26 at 2:00 a.m. GMT and will be available until October 2 11: 59 p.m. GMT.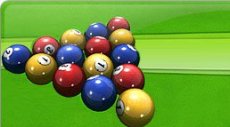 Bankshot Billiards 2 will retail for 900 Microsoft points istead of the original 1200. The game has been developed by PixelStorm and features nine different game styles: classic 8-Ball, 9-Ball, Cutthroat, Euro 8-Ball, 14.1 Continuous, 3-Ball, Trick Shots, Time Trial, and Golf.
Silver Creek Entertainment's Hardwood Spades is a multiplayer card game, offering customizable backgrounds, card faces, card backs and tables. The game will retail for 300 Microsoft points (original price: 400).
The same price policy will be applied to the Frogger, also an "300 now/ 400 later" game. The game has been developed by Konami and originally released back in 1981.