The Halo Wars demo was released on Xbox Live Marketplace on February 5.
The previous record was set by the Resident Evil 5 demo. During its first week of availability, the demo was downloaded 1.8 million times. Any bets on the next record breaker?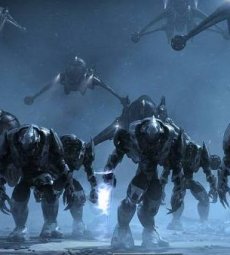 Microsoft also announced that other titles performing well in the downloadable content department during January were Fable II Knothole Island and Fallout 3: Operation Anchorage. Both titles are available for 800 Microsoft Points.
Halo Wars will be released in Europe on on February 27. US gamers will have to wait their turn until March 3, when the Xbox 360 title is scheduled to invade shops in North America.
The regular edition of the Xbox 360 exclusive will retail for $59.99. Microsoft will also release a Limited Collector's Edition ($79.99), which includes the following:
– Three new Halo 3 (not Halo Wars) multiplayer maps: Assembly, Orbital and Sandbox.
– The Halo Wars: Genesis graphic novel
– The "Honor Guard" Wraith in-game vehicle
– Six "Leader Cards." Trading cards
– Spirit of Fire Patch