Before we get down to the list (a very long list), let's sum it up for you. The game will feature 8 tiers (4 songs per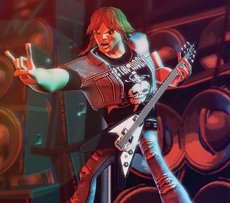 tier, plus the encore and the co-op encore) and 24 bonus tracks. Slash will take the stage in the fifth tier and don't be amazed if you hear Welcome to the Jungle (Guns N Roses) playing in the background.
On a personal note, I hold Tier 8 to be the best one in the game. Call me old-school, but I can't find a better combination than Iron Maiden, Slayer and Metallica.
Tier 1:
Foghat- Slow Ride
Poison- Talk Dirty to Me
Pat Benatar- Hit Me With Your Best Shot
Social Distortion- Story of My Life
Encore: Kiss- Rock and Roll All Nite
Co-op Encore: Beastie Boys- Sabotage
Tier 2:
Mountain- Mississippi Queen
Alice Cooper- School's Out
Cream- Sunshine of Your Life
Heart- Barracuda
Boss: Tom Morello- Guitar Battle
Encore: Rage Against the Machine- Bull's on Parade
Co-op Encore: The Strokes- Reptilia
Tier 3:
The Killers- When You Were Young
AFI- Miss Murder
The Who- The Seeker
Priestess- Lay Down
Encore: Rolling Stones- Paint It Black
Co-op Encore: Red Hot Chili Peppers- Suck My Kiss
Tier 4:
Black Sabbath- Paranoid
The Sex Pistols- Anarchy in the UK
Sonic Youth- Kool Thing
Weezer- My Name Is Jonas
Encore: Pearl Jam- Evenflow
Co-op Encore: Blue Oyster Cult- Cities on Flame with Rock and Roll
Tier 5:
The Dead Kennedy's- Holiday in Cambodia
Scorpions- Rock You Like a Hurricane
Aerosmith- Same Old Song and Dance
ZZ Top- La Grange
Boss: Slash- Guitar Battle
Encore: Guns N Roses- Welcome to the Jungle
Co-op Encore: Bloc Party- Hellicopter
Tier 6:
Santana- Black Magic Woman
Smashing Pumpkins- Cherub Rock
White Zombie- Black Sunshine
Tenacious D- The Metal
Encore: Stevie Ray Vaughn- Pride and Joy
Co-op Encore: Matchbook Romance- Monsters
Tier 7:
Slipknot- Before I Forget
Disturbed- Stricken
Queens of the Stone Age- 3's and 7's
Muse- Knights of Cydonia
Encore: Living Colour- Cult of Personality
Tier 8:
Slayer- Raining Blood
Eric Johnson- Cliffs of Dover
Iron Maiden- Number of the Beast
Metallica- One
Boss: Lou- Guitar Battle
Encore: The Devil Went Down to Georgia
Bonus Tracks:
An Endless Sporadic- Impulse
Backyard Babies- Minus Celsius
Bret Michaels Band- Go That Far
Die Toten Hosen- Hier kommit Alex
Dragonforce- Through the Fire and the Flames
Fall of Troy- FCP Remix
Gallows- In the Belly of a Shark
The Hellacopters- I'm in the Band
Heroes del Silencio- Avalancha
In Flames- Take This Life
Kaiser Chiefs- Ruby
Killswitch Engage- My Curse
LA Slum Lords- Down N Dirty
Lacuna Coil- Closer
Lions- Metal Heavy Lady
NAAST- Mauvis Garcon
Prototype- The Way It Ends
Revolverheld- Generation Rock
Rise Against- Prayer of the Refugee
Scouts of St. Sebastian- In Love
Senses Fail- Can't Be Saved
The Sleeping- Don't Hold Back
The Stone Roses- She Bangs the Drums
Superbus- Radio Song