The upcoming strategy game will allow players to storm the world in the modern age if they should have at least the following configuration under their hoods: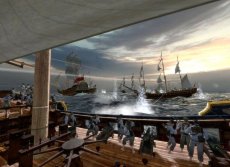 – CPU: 2.6Ghz single core processor
– RAM: 1GB RAM / 2GB for Vista
– Graphics: a DirectX 9.0c card with 256mb RAM
Remember, there are the minimum system requirements and everyone looking to run the game with decent options should look for a better system. Then again, Empire Total War will be released this March, so I suppose there is enough time to go shopping.
Empire: Total War is set in the 18th century, a period alive with global conflict, revolutionary fervour and technological advances. Themes such as the Industrial Revolution, America's struggle for independence, the race to control Eastern trade routes and the globalisation of war on land and sea will be some of the highlights of the upcoming game.