The game has been busy sweeping aside all competition, much like in the way Genghis Khan's warriors swept over Asia. The downside is that the Horde was eventually stopped, and so was the game.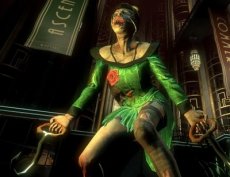 Most bets had BioShock as the favorite runner in the "most played Xbox 360 game of the week" race. Ironic as it may seem, Epic was right to claim that "You can't top Gears of War and that's a fact". The latter is king of the hill, while BioShock hopes for a better luck next time:
1 Gears of War
2 BioShock
3 Medal of Honor Airborne Demo
4 Madden NFL 08
5 Tom Clancy's Rainbow Six Vegas
6 skate. Demo
7 Guitar Hero II
8 Forza Motorsport 2
9 BioShock (Demo)
10 Call Of Duty 3
It's true, Gears of War does have the huge advantage of being a multiplayer game. BioShock isn't. Then again, do keep in mind that Live tracks both multiplayer activity and single player activity, so the game had a good shot. Hopefully, it will get the crown sometimes soon. Halo 3 launches on September 25 and from that moment BioShock will have to step down willy-nilly.