The new project got RIAA's approval, but failed to catch on so far, as only Sony BMG and Universal Music Group decided to give ringle a try, with Wal-Mart, Target, Best Buy and Amazon signing on as retailers.
The ringles will retail for around $6 or $7 and will be a discreet presence on the market, at least until November. Sony's plans feature only 50 ringles, while Universal has even smaller numbers, starting with only 10 such releases and going as far as 20.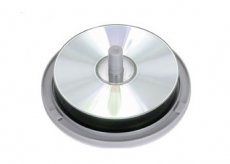 But really, does the ringle even stand a chance at reviving CD sales? Simple math and common sense say no. First of all, digital downloads (the main rival of the CD) offer a cheaper alternative. Let's take iTunes for example: one song retails for about $1, so the three songs will get to cost $3, at least half the price of a ringle. Further down the road, the rigntone just doesn't look like something to be worth the extra $3 or $4.
Smartphone users can go for cheaper alternatives or make a ringtone of their choice out of a song they purchased. Things are cheaper even in the case of Apple's iPhone. The iTunes features a ringtone maker application and charges users 99 cents for every ringtone they make. Bottom line, this adds up to $4, still significantly cheaper.
The last paragraph is for the music industry: I know it's to admit that the business model used for so many decades just doesn't work anymore, but seriously guys, just let the CD have a decent death. The ringle zombie won't do any good.