The word processor, spreadsheet, database, and presentation software package comes with strong support for Microsoft Office's new OOXML files as well as for PDF files, which can now be imported and edited.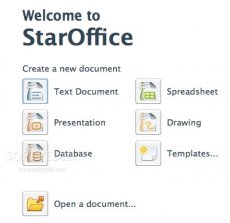 "The StarOffice engineering teams and OpenOffice.org community have come together to produce a first-class product. With the new features in 9.0, businesses get an open standards-based, enterprise-class office productivity suite that is compatible with Microsoft Office but costs significantly less," said Jim Parkinson, Vice President, Developer, Tools and Services at Sun Microsystems, Inc. "With its ability to read MS Office Open XML files, support for MS Access 2007 .accdb files and improved VBA macro support, StarOffice 9 is a great option for companies looking to reduce their IT costs in these tough economic times."
The new release comes with has a fresh new look: a new start center, new icons and many new features, including multiple page editing in Writer, an optimization Solver tool and 1024 columns in Calc, native table support in Impress, and effective handling of poster-size graphics in Draw.
StarOffice 9 is completely open sourced and shares the same code with OpenOffice.org 3.0. However, unlike the latter (which can be downloaded for free), Sun's release is available with a price tag reading $34.95. Volume pricing for the enterprise starts at $25 per user, the company added.