The pre-release version of Update Rollup 4 for Exchange Server 2007 Service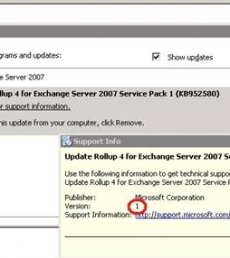 Pack 1 (KB952580) made available by mistake to Microsoft Update, the Microsoft Update Catalog, and WSUS servers for download. This version was not available for much time, but it was enough for some servers using the afore-mentioned distribution methods to detect, download and install it.
According to Microsoft, the pre-release version features an issue that creates the potential for a continuous crashing cycle. The company said that the final version of this update will be released shortly.
"We apologize for any inconvenience and are working to make sure this does not happen again. While at this time we are not aware of many customers being affected by this, we wanted to let you know in case you are currently testing what you downloaded 2 days ago."
Until then, customers are advised to uninstall the update, should it be the case
"To identify if the rollup is installed via the registry, the "DisplayVersion" value shown below will be 1. The newer version of the rollup to be released will consist of a 2 or higher."