The Fujacks worm author, 25-year old Li Jun, was sentenced to four years in prison. According to his statement, he had sold the malware to 12 clients for around 100,000 yuan (US$12,500). He had already confessed to having written the worm.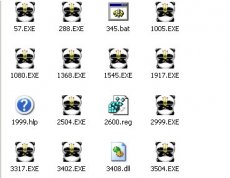 The other three defendants, Wang Lei, Zhang Shun and Lei Lei, got smaller sentences, between one year and two and a half years in jail.
However, this is just a small step in the right direction and Chinese authorities have a long way to go:
"Chinese cybercriminals are not just hitting PCs in their own country, but impacting computer users worldwide, so it's encouraging to see the authorities taking action against the perpetrators," said Graham Cluley, senior technology consultant for Sophos. "Sophos experts have noted that a surprising proportion of malware written in China is designed to steal credentials from players of MMORPGs (Massively MultiPlayer Online Role-Playing Games). This stolen information provides a revenue stream for unscrupulous hackers who will sell the information on to the highest bidder."
The Fujacks worm allowed third parties to access the infected computer and could be used to steal information and install more malware. As a side-effect, it also changed icons of infected programs to a picture of a panda holding joss-sticks.