The Ziff Davis Media company chose to axe the print edition its flagship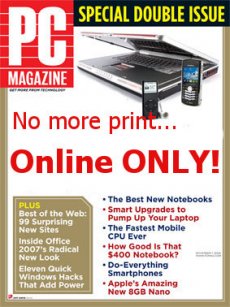 brand altogether as previous plans to push the generated revenue failed. Ealier this year, the magazine moved from bi-weekly to monthly and the current financial crisis was anything but helpful.
"Moving our flagship property to an all-digital format is the final step in an evolutionary process that has been playing out over the last seven years," stated Jason Young, CEO of Ziff Davis Media. "Since 2000, online has been the focal point where technology buyers get their information and technology marketers are directing their dollars to drive demand and build their brands. We have been carefully preparing for this step and are fortunate to have a digital business that has the scale, profit, and opportunity to carry the brand powerfully into the future."
In addition, Ziff Davis also announced a brand name change: its PCMag Network will be renamed PCMag Digital Network. The network includes eight other sites besides PCMag: ExtremeTech, Gearlog, Appscout, Smart Device Central, GoodCleanTech, DL.TV, Cranky Geeks, and PCMagCast
The PCMag Digital Network is credited to have over seven million unique monthly visitors.