Officially, the comic, dubbed Murderdrome, has been rejected because it failed to comply to Apple's 'community standards'. On the other hand, the publisher considers the decision to be plain old censorship.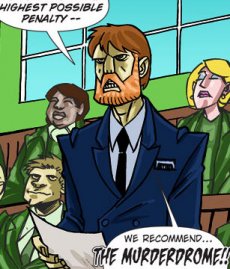 As it follows, Infurious has posted the first issue of the comic online and asks everyone to leave a comment backing their cause:
"Here at infurious, we would love to work with Apple to ensure a content rating system can be put in place to allow material that is no more offensive than many of the R rated films available to download on iTunes," reads the announcement.
"PLEASE leave a comment committing your support to us – we'll forward ALL of these to Apple, so that we can ensure that not only Murderdrome, but that ANY comic submitted to Apple doesn't fall foul of the same censorship."
The episode is available here. We've read it: it's a bit violent and filled up with cliches. If we were Apple, we would've benned it for being totally not-funny.