Both Internet Explorer and Firefox saw their market share take a dive during September, a
new study
from Net Applications reveals.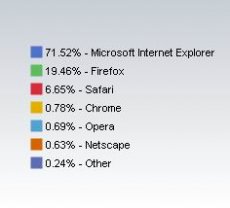 The Microsoft-backed web browser kept marching on the decline path. The release of the second beta of IE 8.0 did nothing to improve the browser's appeal and now it's down 0.63 points to 71.52%.
In the mean time, Firefox had to settle for a market share of 19.46%, happy that's still far ahead of the Apple-developed Safari, now credited with 6.65%.
The IE and Firefox market share loss adds up to 0.90 points. One would be quick to say that this is just the market share snatched by the Chrome, the Google-backed browser. However, figures contradict such an assumption. Chrome gained only 0.78 points since its launch on September 2.
These being the figures, it seems that Chrome was not the onl browser making users to switch from their two 2 software of choice. Both Safari and Opera posted small gains during the period, with the latter going up to 0.69% market share, from an initial 0.62%.