The application was announced by the South Park Digital Studios back in October and was waiting for Apple to give its approval. Alas, the iPhone app was considered to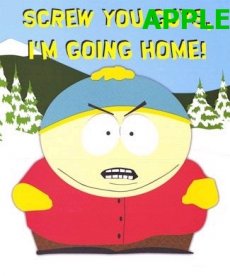 be "potentially offensive" by Apple and was, therefore, rejected:
"At this point, we are sad to say, the app is dead in the water. Sorry, South Park fans," reads a message from the South Park Digital Studios.
However, all may not be lost, although it may seem so at this time. Apple seems to be still considering the app and may even get back on its decision in the near future. The company told the studio that "standards would evolve", and recalled that the iTunes refused to sell any music with explicit lyrics when it first launched.
So have a little patience for the time being. As for the Studio, it would be wiser not to have Cartman give Apple a piece of his mind. Apple is known to be a very touchy company.
At present time, Apple's store features over 15,000 applications. According to Apple's report in January, more than 500 million applications had been downloaded from the Apple Store by iPhone and iPod Touch users.