Usually, any browser keeps a tight record of your online activity, in terms of visited pages. A useful feature for those with a certain pattern in online activities, but very annoying if you're not very comfortable with other knowing what are your web-related interests.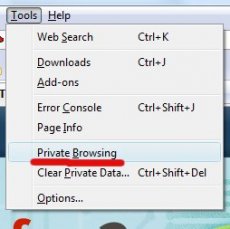 One might not want to have its co-workers know what shady sites is he surfing. Just as well, employees wouldn't be too happy to allow their bosses to know they're looking for a new job.
Firefox programmer Ehsan Akhgar brings good news:
"Private Browsing aims to help you make sure that your web browsing activities don't leave any trace on your own computer. [..]Private Browsing is only about making sure that Firefox doesn't store any data which can be used to trace your online activities, no more, no less."
He also makes it very clear that Private Browsing will not keep the user anonymous from websites or one's ISP. Also, the feature was not designed to elude spyware apps made to intercept online traffic.