In addition, players also unhappy with their multiplayer experience limited to online the offline.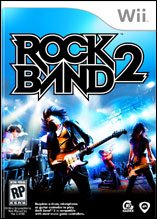 However, MTV Games and Harmonix plan to change all this in the next Rock Band title. MTV Multiplayer reports that a Harmonix representatives reassured them that the upcoming Rock Band 2 for Wii game "will be fully featured".
So, Wii gamers will be able to spend mone on additional tracks, as well as to compete against each other without having to be in the same room. Good news for Rock Band 2 fans, especially since the gamee will be released in a short while.
Harmonix has yet to set a release date for Rock Band 2, but announced that the game will be released later this year. The holiday shopping season is coming up, so it's not that hard to guess just when does Harmonix plan to release it.