Overlord II is in development for PS3, Xbox 360 and PC, currently scheduled for release in North America on June 23, 2009, and Europe on June 26, 2009.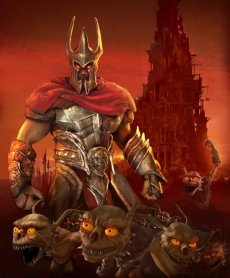 In Overlord II, the new Overlord and a more powerful Minions horde take on the Glorious Empire, an advanced Romanesque nation.
On the surface, the Glorious Empire is a civilisation driven by righteous politicians and supported with a mighty military force. However, in practice the Empire is decadent, corrupt and dangerous. And if there's one thing the Glorious Empire hates, it's magic and magical beings.
Needless to say, the game will begin with the discovery of the new Overlord, who will unleash his horde of minion across the empire after a few years of intensive training:

"The Minions are the stars of the show and we've brought them back with bigger personalities and with more abilities than before," said Lennart Sas, Creative Director, Triumph Studios. "Hilariously supercharged, the Minions can tear down scenery and destroy buildings, ride mounts and operate powerful siege weapons in massive battles with the Empire. They became hugely popular from the first game, so we're upping their profile, abilities and unique characteristics."