The DS console saw its sales triple themselves since October. Nintendo's handheld sold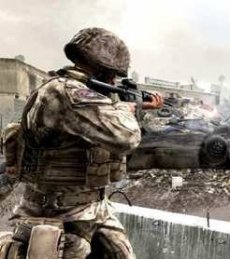 1,530,000 in November, while its figures only went as up as almost 500,000 units the month before. The Wii kept its second place with 981,000 units, less than it could've made if the shortages had stopped plaguing the company.
Microsoft also had a good month, shipping 770,000 more console to gamers in the US, while Sony had to settle for the last three positions: PSP, PlayStation 2 and last, PlayStation 3.
The complete NPD Group top is down below:
Nintendo DS – 1,530,000
Wii – 981,000
Xbox 360 – 770,000
PlayStation Portable – 567,000
PlayStation 2 – 496,000
PlayStation 3 – 466,000
Call of Duty 4: Modern Warfare successful invaded not the beaches in Normandy, but the software sales charts. The Xbox 360 game barricaded itself on the top position with the help of 1,570,000 troops (sold units), followed by the Wii-ish Super Mario Galaxy (1,120,000). Assassin's Creed killed the right competitors and landed on the third step of the podium, but Altair would better keep an eye out for Guitar Hero III: Legends of Rock (at number 4), as his advantage is far from being great.
Master Chief sits silent near the end of the list with 387,000 sold copies, a clear sign that the Halo 3 hype wave is gone. Oh well, "thus passes the glory of the world", right?
1. Call of Duty 4: Modern Warfare (Xbox 360) – 1,570,000
2. Super Mario Galaxy (Wii) – 1,120,000
3. Assassin's Creed (Xbox 360) – 980,000
4. Guitar Hero III: Legends of Rock (PlayStation 2) – 967,000
5. Wii Play w/ Remote (Wii) – 564,000
6. Mass Effect (Xbox 360) – 473,000
7. Call of Duty 4: Modern Warfare (PlayStation 3) – 444,000
8. Guitar Hero III: Legends of Rock (Wii) – 426,000
9. Halo 3 (Xbox 360) – 387,000
10. Assassin's Creed (PlayStation 3) – 377,000