The new versions are being developed and published exclusively by Aspyr, following a special deal with Activision. The game will feature over 70 songs, boss battles and the ever-present exclusive unlockable content. Perhaps the most interesting part revolves around the multiplayer, which will allow gamers to test their skills against opponents from anywhere in the world.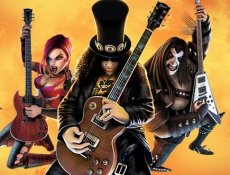 "Working with such a wildly successful franchise and helping to strengthen an already powerful brand has us feeling like rock stars ourselves, only without the fame, money or musical talent. But even without Slash's chops, we still have what it takes to bring the best music game on the planet to PC and Mac gamers. Aspyr's expertise in developing and publishing for these platforms means that we will deliver a game that wails just as hard as it does on consoles but feels natural on this audience's chosen platform."(Ted Staloch, Executive Vice President, Publishing for Aspyr)
But you already guessed that, so let's move to the most interesting part. GameDaily has been talking to Aspyr's Jay Gordon and found out how will the control part work in the game:
"The PC/Mac version of Guitar Hero III will ship with a Gibson model Guitar Hero guitar controller that will feature USB connectivity. More details on the exact model of Gibson Guitar we're shipping with will be available soon."
Guitar Hero III: Legends of Rock on PC and Mac is rated T for Teen by the ESRB.