The eBay
auction
for the Guitar Hero III: Legends of Rock (Wii version) ended at the astonishing price of $9,100. Given the fact that the game itself costs around $90, the result is beyond any reasonable comment.
However, it's doubtful that this was the result the seller was aiming for. According to his post on eBay, he decided to sell the game in order to teach his son a lesson about being responsible:
"So I spent who knows how many hours of my life trying to get "Guitar Hero 3" for the Nintendo Wii for my 15 year old son[…]So I was so relieved in that I had finally got the Holy Grail of Xmas presents pretty much just in the nick of time. I couldn't wait to spread the jubilance to my son.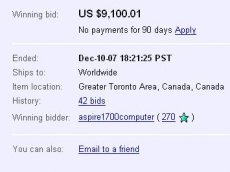 Then, yesterday, I came home from work early and what to I find? My innocent little boy smoking pot in the backyard with 2 of his delinquent friends."
"I know smoking a joint isn't the end of the world, but if you can convince me that he deserves the gift, then I will end the auction. You will have to be very convincing. I am an elementary school teacher and I know that rewarding bad behavior is just asking for more of the same…While I doubt this will keep him from ever smoking pot again, I think it will make him think twice before doing illegal (well I think pot is still illegal in Canada) drugs on my property."
However, the boy won't be completely left out this Christmas: the poster notes in the end that he plans to justly reward his son with another smashing hit game, something in the line of Barbie as the Island Princess or Dancing With the Stars: "These games are in stock everywhere I go, and I know he will just love them."
Frankly speaking, I think the man should worry if his son really starts playing those games.