According to Munster (via apple20.blogs), the iPhone slice of the sa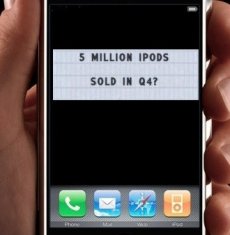 les pie will end up representing quite e "meaningful percentage" of Apple's revenue.
The Apple analyst decided to increase the final figure from the initial 4.1 million. Given that Apple is already credited of having sold 2.4 million first-generation iPhones in the first six months of the year, the total now would amount to a hefty 7.4 million in total.
One should wonder just how many device Apple managed to sell during its third quarter, as the Cupertino company has yet to publish the results. Basically, Apple only needs to have sold around 2.6 million units so it would reach its 10 million iPhone goal.
The fourth quarter ends next Tuesday, September 30.