There will be three models launched this fall, with two of them featuring flash memory and one still hard-drive based, just like the original Zune.
The HDD model offers 80GB of storage space and will retail for $249.99. The flash memory models will offer a much modest storage capacity and a cheaper price to go with it: the 4GB Zune is set for $149.99 and the 8GB model is $50 more expensive ($199.99).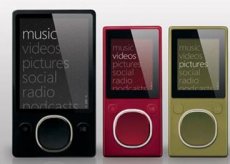 The new Zunes will feature a new touch-sensitive button, called the Zune Pad navigation button.
It appears that even Microsoft can't fight the current "no-DRM" trend and decided to remove for of the software chains. The Zune Marketplace online store will feature over 1 million no-DRM MP3 files that may be played on any device the user choses, the Zune included. .
And speaking of restrictions (or the lack of them), Microsoft also announced that users will enjoy much more freedom when it comes to Zune's sharing features. Users will be able to share songs, albums, play lists, pictures and audio podcasts, but will still be limited to listen to a shared song for three times.
Microsoft announced that it has sold about 1.2 million Zune players since last November. By comparison, Apple sold over 100 million iPods since 2001 and it took only 74 days to sell 1 million iPhones.