Still, one thing is certain: the prices of the retail Vista packs are to be trimmed in the near future. Why? Well, we all know why, but it's nice of Microsoft to try and sell it in a different manner (some pun intended). So
sayeth
Brad Brooks, corporate vice president for Windows Consumer Product Marketing at Microsoft: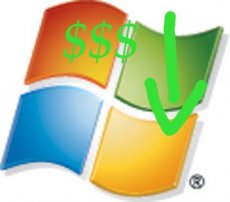 "We've observed market behavior, however, that suggests an opportunity to expand Windows stand-alone sales to other segments of the consumer market.[…] one constant emerged – an increase in demand among consumers that went beyond tech enthusiasts and build-it-yourself types. The success of these promotions has inspired us to make some broader changes to our pricing structures, to reach a broader range of consumers worldwide."
If you don't care about elaborate, yet rather standard PR talk just don't bother with the quote above. The main reason is located at the end of the interview and it's quite simple: it's a double push up. Service Pack 1 is soon coming to town, and so are the price cuts, (hopefully) turning the retail copies of Vista into a presumably good deal:
"Our retail partners will be refreshing their Windows Vista inventory once SP1 is released to the market later this year. We're trying to make this as easy and efficient as possible for our retail partners to update their displays once."
Still, don't count your chickens before they're hatched. Microsoft intends to make the price cuts on a country by country basis, so offers might (or better yet, surely will) differ significantly. One thing that caught my eye was the new marketing plan for Windows Vista Ultimate, which is to have its price trimmed in order to make a it nice offer in emerging markets.
Must be that Microsoft hopes to make Linux take a step back in such territories this way. Truth be told, the company would stand a better chance if it offered Windows XP. It would be much cheaper and it would certainly work better on the computers available. Then again, the Redmond company just can't do that. As you might remember, XP is still Vista's main enemy, as both users and sometimes even manufacturers prefer to go with the former OS.
Still, Microsoft's trimming Vista prices is a sign of faith. They trust Vista to still be able to make it on its own, not just as the only OS available on machines sold nowadays. Either that, or they just need to make it look this way.