The first demonstration took place at the Wall Street Journal's 6th D: All Things Digital conference in Southern California. Microsoft's Bill Gates and Steve Ballmer tried to oil the hype machine with the help a video presentation of how can the Surface touch technology work on desktop PC or notebooks.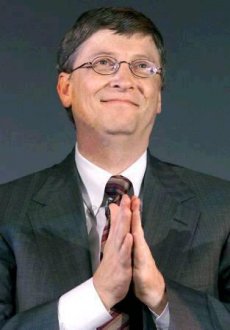 The video shows how users can manipulate objects in a iPhone-like manner by using just their fingertips. According to Microsoft's top duo, the entire Windows interface will be designed around the touch concept, thus allowing users to organize, zoom in/out on pics, draw in MS Paint and much more. Needless to say, the menus and icons will be getting significantly bigger, so anyone would find the system easy to use.
"Touch is quickly becoming a common way of directly interacting with software and devices. Touch-enabled surfaces are popping up everywhere including laptop touch pads, cell phones, remote controls, GPS devices, and more," writes Windows product manager Chris Flores in a blog post related to the presentation. "What becomes even more compelling is when this experience is delivered to the PC -on a wide variety of Windows notebooks, in all-in-one PC's, as well as in external monitors. In working with our broad ecosystem of hardware and software manufactures, we're excited to be showing some of the great work and investments we are working on in Windows 7."
Microsoft still hasn't nailed down a release date for the new OS, but stressed out that Windows 7 should hit the stores in early 2010. At first glance, this might convince some user to skip the Vista experience altogether and wait for the next OS. However, Microsoft is known for its countless delays and there are no indications that this time the company will release its product on time.
Furthermore, it remains to be seen what will be the system requirements for the new OS. Hopefully, Microsoft will give its Vista views and come up with a product that would run smoothly on a middle-range system, just the way Windows XP did. Microsoft should've taken the Vista lesson to heart, or else they'll just end up with a new OS that nobody will touch, although it has a specially-designed multi-touch interface.