It all started with the release of the 10.5.6 update for Mac OS X Leopard. It continued with the download and installation of the patch. And then things came to a sudden end.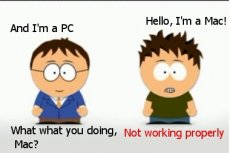 Mac users having installed the full update seem to be the lucky ones, as they stand to suffer less than the others. Still, Apple now has a long list of complaints in its hands and it remians to be seen just how much will take before they issue a fix for their faulty patch.
Until then here's a list of the most common issues caused by the 10.5.6 update:
– Airport and wired network connections become unstable
– Mail application doesn't quit or fails to connect to the mail server. Other users report crashes as well
– problems get the silent treatment. User get no notice when errors occur
– and, finally, the most spectacular result:
"This update just made my 24" iMac a totally useless brick. Now have a white screen, beeps 3 times, paused about 3 seconds, then repeats beeps. Way to go Apple! What a horrible update. Warning to all: Take Apple's note to back up your entire system, before Apple trashes it with this update!" wrote one unhappy user.