Both titles will be published by Sega across Europe and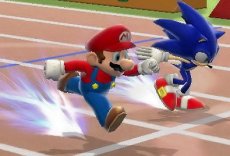 North America, while Nintendo will focus its efforts on the Japanese market.
The game will feature 20 authentic Olympic events, listed down below:
Fencing – Individual epée
Archery
Shooting – Skeet
Gymnastics – Trampoline
Gymnastics – Vault
Field – High Jump
Field – Pole Vault
Field – Long Jump
Field – Triple Jump
Field – Javelin Throw
Field – Hammer Throw
Rowing – Single Sculls
Table Tennis – Singles
Aquatics – 100m Freestyle
Aquatics – 4x100m Freestyle
Track – 110m and 400m Hurdles
Track – 4x100m Relay
Track –100m and 400m
Mario & Sonic at the Olympic Games will feature 16 characters, 8 from the world of Mario and 8 from the world of Sonic. Both companies have high hopes regarding this joint project. Recently, Masanao Maeda, a corporate director at Sega's gaming unit, stated that the game is expected to sell 4 million sold units, but failed to also offer a time frame.