Also, one might say that sport is a good way to keep your sales in shape. The OlympicGames featuring Mario & Sonic got on the third step of the podium. Pro Evolution Soccer 2008 doesn't get any medal this time, but it's happy to sit on the fourth step, far ahead from Sega Superstars Tennis (number 6) and FIFA 08 (10).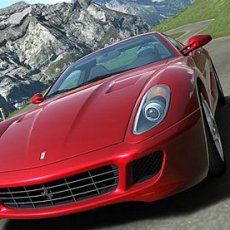 There's a large crowd of fans at number 5, where Guitar Hero III: Legends of Rock has a gig. They must be singing for peace, a reason why Call of Duty 4: Modern Warfare and Viking: Battle for Asgard kept their distance (7 and 8, respectively).
As ever, the geeks of Brain Training are left behind on the last step.
The complete top is here:
1. Gran Turismo 5: Prologue
2. Tom Clancy's Rainbow Six Vegas 2
3. Mario & Sonic at the Olympic Games
4. Pro Evolution Soccer 2008
5. Guitar Hero III: Legends of Rock
6. Sega Superstars Tennis
7. Call of Duty 4: Modern Warfare
8. Viking: Battle for Asgard
9. FIFA 08
10. Brain Training