So, besides the guitar peripheral replacement offer (available to all those who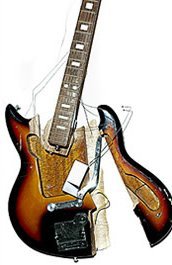 shipped the defective ones back to EA), the company will also a throw a free game in. Just because they're a bunch of good guys and the fact that they're running terribly late with the program has nothing to do with it.
Joystiq reports:
"According to a number of emails we've received today, the Rock Band team has contacted a number of people who sent in requests for new guitars to tell them that while their new peripherals are on their way, they were slightly behind schedule due to a late shipment from the manufacturer. As a result, they'll be offering a free EA game to those affected by the slight shipping delay."
This is the moment when the astronaut voice says "Houston, we have a problem!". Electronic Arts didn't specify which game they're gonna throw in. At present time most bets are on the Sims franchise, with Sims 2 Bon Voyage leading in the voting charts.