Dubbed Spore Creepy & Cute Parts Pack,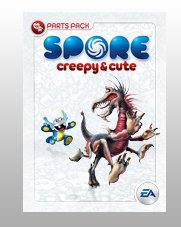 the first expansion pack is already
available for pre-order
. The actual release date has been set for November 18 and the price tag reads $19.95.
The first Spore add-on will come packed with 100 new creature-creating parts, ranging between nice and fluffy on one end and gruesome and creepy on the other, so everyone will have the chance to create the fire-breathing pink pony of their dreams.
It might be enough to justify wasting $20 on the offer, but one question still remains: isn't it a bit too soon to launch an expansion pack? Spore has been on the market for one month and the first add-on becomes available in two months after the release.
We all know that EA craves to milk any franchise as much as it can, but this time one might wonder if the players won't feel cheated. After all, Spore Creepy & Cute Parts Pack is just a bunch of limbs that could've been added to the original release. Or released for a price better suiting price, ranging between $1 and $2.