Simply dubbed Fab 4, the new facility will employ 56-nanometer process technology at first and, starting from March 2008, it also plans to gradually move to 43 nm technology.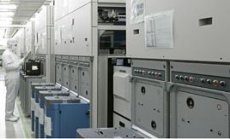 "Fab 4 is testimony to the success of the great partnership and long-term commitment between Toshiba and SanDisk. The enormous size and technology scope of Fab 4 reflect our confidence and optimism for the future, and we believe will enable us to competitively meet the growing demand for flash storage from our global customers in the years ahead." (Dr. Eli Harari, Chief Executive Officer and Chairman of SanDisk Corporation)
The mass production is scheduled to start this December and go up to 80,000 wafers a month by next fall. However, if things go in the right direction, plans to expand capacity will be rolling in so the production could be raised to 210,000 wafers per month.
The construction of Fab 4 was started in August 2006.
Given the fact that the Land of the Rising Sun is also the Land of the Earthquake, the new facility features earthquake-absorbing structure that will dampen temblor force by up to two-thirds.