The promotion runs between October 1, 2007 and January 31, 2008 and its basically the same deal that the Blu-ray camp put on the table from July 1 to September 30.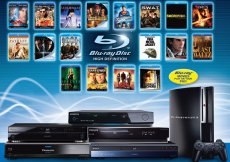 However, the free movie line up has been updated and it features 18 titles from six movie studios:Pirates of the Caribbean: Curse of the Black Pearl, Wild Hogs, American Psycho, Chain Reaction, The Devil's Rejects, Flight of the Phoenix, Full Metal Jacket, Hart's War, The Last Waltz, Omen 666, The Patriot, The Prestige, Species, Stir of Echoes, Superman: The Movie, SWAT, Swordfish and Ultraviolet.
Incidentally, 18 is also the number of Blu-ray players that qualify for this promotion and includes models from Sony (the PlayStation 3 is included), Philips, Pioneer and Samsung.
The offer is only available for consumers in the United States and Canada. If you're interested in this promotion, click here.