First, some good news for iPhone fans: the device suddenly lost $200 and will now retail for $399. Officially, the price drop is a way to expand the market share of the Apple phone, especially since the shopping season is just around the corner. It's undoubtedly true, but it sure says a lot about how many were still inclined to go for the previous offer.
Custom ringtones are coming on the iPhone. According to Jobs, an update to the iTunes will allow users to create the ringtones of their choice with the help of a ringtone maker application. The user chooses the song, selects a portion of it and voila!, the ringtone has been made. Still, only certain songs will be available for such conversion and the user will be charged 99 cents for every ringtone he makes. (I can't help but wonder why any regular smartphone, plus an audio editor can do that for free).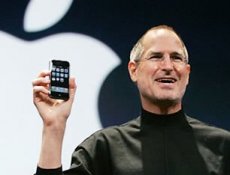 Moving on to iPods, Jobs announced that the regular iPod would change its name to "iPod Classic". The latest addition to the line up is the 160 GB iPod Classic, which will retail for $350. The battery on the new player will last for around 40 hours of audio or 7 hours of video.
Confirming earlier rumors, the Apple guru introduced the iPod Touch, a device featuring almost the highlights of the iPhone ( wireless antenna, touch screen), except for an obvious one: is doesn't make calls. Two models will hit the market, a 8 GB one ($299) and a 16 GB one ($399).
Several new colors have been added to the iPod Shuffle and iPod Nano line up. In fact, the iPod nano has been redesigned altogether. The new device features a 320 by 240 2-inch screen and has a battery life of 24 hours of audio or 5 hours of video. There's a $150 price tag on the 4 GB silver model, while the 8Gb will be $50 more expensive.
in red, black, silver, blue and green the new Nano sports a with a 3 pixel resolution. Battery life lasts approximately 24 hours playing audio and five hours with video. The 4 GB silver model will sell for $150 while the 8 GB version will retail for $200.
Last but not least, it was expected that Jobs would stress out the importance of the iTunes store, especially given NBC's recent decision to leave Apple's store for Amazon. The virtual store sold over 3 billion songs, thus becoming third largest music store, surpassed only by Wal-Mart and Best Buy. Feel free to add over 95 million TV shows being sold the the iTunes software being downloaded over 600 million times and you have the complete image.
In the mean time, Microsoft announced a $50 price drop for its 30 GB Zune player, which will retail for around $200.