"The number of people using Opera Mini worldwide proves that there is a true revolution going on: people want to access all their favorite Web sites on the mobile phone they have today," says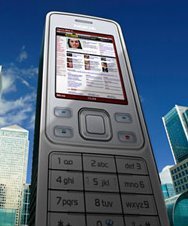 Jon von Tetzchner, CEO, Opera. "We constantly focus on developing a faster and more personal browsing experience. Opera Mini 4.2 beta is an update that takes mobile Web browsing to the next level."
Opera Mini 4.2 beta comes packed with improved support for YouTube and other mobile video services on a wider selection of mobile phones. In addition, Opera Link now allow users to share notes between their mobile phones and PCs, in addition to their bookmarks and recently-visited URLs.
Last but not least, Opera Mini 4.2 beta comes with a plethora of colorful new skins, for those users looking for a more personalized experience.
Opera also announced that Opera Mini users in the United States and Asia-Pacific region can now experience faster browsing speeds, due to the addition of an Opera Mini server park in the United States.
Opera Mini is available here for download.