The "Let's Rock" says very little, if not nothing at all. It features a silhouette holding an iPod in its hand, the time and the place of the event, plus a loading bar underneath all that.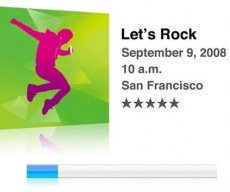 Given that no information is made available by the Mac maker, everyone will once again turn to the report published by Digg founder Kevin Rose last week.
According to Rose, Apple plans to unveil a new and "significantly redesigned" iPod Nano line. Some changed are also expected to be performed on the iPod Touch line, with Apple hoping that the look of the gadgets would end up as being improved.
Rose also predicted that Apple would soon announce new software releases: the iPod touch 2.1 software and iTunes 8.0.
Last but not least, Apple was rumored to plan a price cut for its iPods, given the similar move it performed on the latest edition of iPhones.

Apple is, as always, very fond of its code of secrecy, so mostly nothing will surface until the company's event next week.