Developed by Naughty Dog Inc., Uncharted 2: Among Thieves will feature up to 10 players in 5-versus-5 competitive gameplay. Cooperative multiplayer modes allow up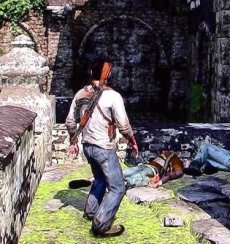 -to-3 players to progress through a variety of environments by working together to accomplish set objectives.
"Adding a multiplayer aspect to the Uncharted franchise is a significant step in the re-playability of the game," said Christophe Balestra, co president Naughty Dog. "Uncharted 2: Among Thieves will be the most impressive and ambitious game that Naughty Dog has done and we are thrilled to let our fans experience it this fall."
Players will be able to battle in ranked matches that include Team Death Match and Capture the Treasure, a multiplayer competition that encourages team work to transport a treasure over dynamic terrain such as ledges and obstacles.
Uncharted 2: Among Thieves is the story of Nathan Drake, who is lured back into the treacherous world of thieves and mercenary treasure-seekers. The game allows players to take control of Drake and embark on a journey that will push him to his physical, emotional and intellectual limits to discover the real truth behind the lost fleet of Marco Polo and the legendary Himalayan valley of Shambhala.