The new site, discovered by security firm FaceTime, webmail services such as Hotmail and Yahoo Mail, as well as networking sites including hi5, MySpace or Facebook.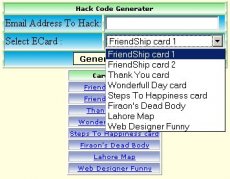 With the help of the site, wannabe hackers cam make special email which can be sent to their victims. First, they select the desired email template and the site to be targeted. Then, they add an email greeting card, which will lead the victims to a phishing site impersonating the domain.
Once the victim clicks a phish link, he would be taken to a different site hosting the phish pages. Needless to say, the victim would then enter his login name and password, log-in credentials that would be then forwarded to a page which can be accessed by the user.
Internet Explorer users, the security company reports on its blog, are the lucky ones this time, as the domain used for the scheme is flagged as a known Phish host.