According to the company, the issue only affects a small number of units produced by a Maxtor sub-contract manufacturer located in China. The company states that the problem at the Chinese facility has already been solved and the new units don't have such a "feature".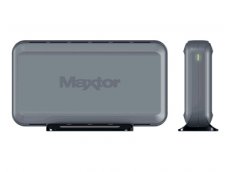 The piece of malware has been tagged by Kaspersky as the Virus.Win32.AutoRun.ah, a virus that searches for passwords to online games and sends them to a server located in China. Also, it may cripple out-of-date antivirus software.
It seems that this incident was a special dedication for Chinese MMO gamers, as the virus mainly affect Chinese titles (well, that and World of Warcraft). Seagate's list of affected games features the following:
– WSGame
– 91.com
– QQ
– Woool
– rxjh.17game.com
– TianLongBaBu
– AskTao
– Perfect World (Wanmei Shijie)
– World of Warcraft
Customers are advised to call Seagate customer support and find out whether they have an infected device or not.