The Google Earth 5.0 project, officially launched at the California Academy of Sciences, has the support of over 80 organization, including National Geographic, the Monterey Bay Aquarium, the National Oceanic and Atmospheric Association and the US Navy.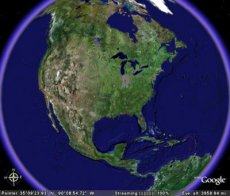 "Didn't Google Earth always have an ocean? Technically, yes, well, sort of. We have always had a big blue expanse and some low-resolution shading to suggest depth. But starting today we have a much more detailed bathymetric map (the ocean floor), so you can actually drop below the surface and explore the nooks and crannies of the seafloor in 3D,"
writes
John Hanke, Director of Google Earth and Maps. "While you're there you can explore thousands of data points including videos and images of ocean life, details on the best surf spots, logs of real ocean expeditions, and much more."
But the new Google Earth doesn't stop at the ocean floor. Three other new features have been added. The first one is Historical Imagery, enabling users to see the changes occuring over time in a specific area (Silicon Valley, for instance).
Next in line Comes 3D Mars, based on a collaboration with NASA. The result is a 3D map of the Red Planet featuring the latest high-resolution imagery, 3D terrain, and annotations showing landing sites and lots of other interesting features.
The third feature is Touring, which allows the creation of a sharable, narrated, fly-through tour by clicking the record button and navigating through the tour destinations.